Sunrise, Sunset & Stars in the Flint Hills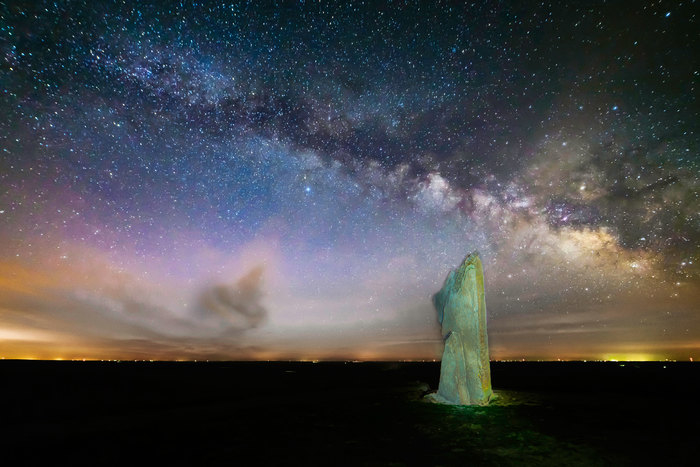 The Flint Hills is a place where gently rolling hills and huge, sweeping vistas make sunrises and sunsets a twice-daily occasion of stunning beauty. In early May after the end of the fire season, one of the best photo opportunities is to capture the sun setting over a sloping hill of new bright green prairie grass. The grass doesn't look as bright green if a pasture hasn't been burned, so photographers have to scout out the best sites ahead of time. If you want your photo to include the bright orange Butterfly Milkweed you will need to wait until the end of May or the beginning of June.
Incoming inclement weather is easily to see in the Flint Hills, even when it's many miles away. Locals know that the weather moves in from the west and moves out towards the east. Any weather the Flint Hills gets will eventually work its way over towards Lawrence and Kansas City.
Huge anvil-shaped thunderstorms will build up during the summer. If the anvils are to the east one then knows that there's not much to worry because the weather is already past us. Watching lightening flash inside a huge green and purple thundercloud is to see the power and beauty of nature unleashed.
Large swaths of the Flint Hills are bisected by limestone gravel roads that do not possess street lights. Because much of the Flint Hills remain uncontaminated by lights it is a wonderful place to see the Milky Way galaxy. Some of the photographers who have contributed to the Visions of the Flint Hills art show have chosen to capture the complexity and beauty of our galaxy. Obtaining a crisp and clear photo of the Milky Way is truly an art form and can be appreciated here.