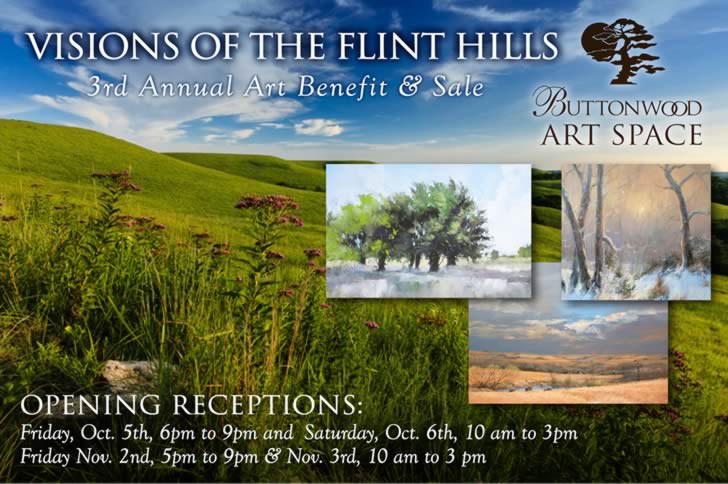 "4th Annual Visions of the Flint Hills"
October 5th through November 30th, 2012
2012 Flint Hills Art
Welcome to the Visions of the Flint Hills Art Benefit.
Each year, Buttonwood Art Space features original art from the Flint Hills area of Kansas. The benefit raises funds for the Flint Hills Tourism Coalition, a 501(c)3 organization. They promote the Flint Hills as a tourist destination and support efforts to sustain local business in the area and to preserve the beauty of the native tallgrass prairie.
The Flint Hills art in this 2012 show was juried by Judith Mackey, a well-known artist residing in the Cottonwood Falls, Kansas area. All art in this show depicts and/or is derived from the Flint Hills. Fifty-percent of the proceeds go to the artist and fifty-percent to the Flint Hills Tourism Coalition.
Buttonwood Art Space took no commission for this annual show. Buttonwood Art Space is underwritten by Buttonwood Financial Group, LLC. Buttonwood Financial Group is a wealth management company offering financial advisor services.